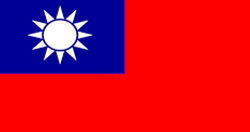 Taiwan
Address: No. 34, Paschimi Marg, Vasant Vihar,
New Delhi, Delhi 110057
Phone: 011 4607 7777
---
Basic requirements
To be eligible for an ROC Travel Authorization Certificate, the following three basic requirements must be met:
1. Passport copy
2. Hotel Booking.
3. Return Ticket
Additional requirements
In addition to the aforementioned basic requirements, one of the following requirements must also be met:
1. The applicant possesses at least one of the following documents issued by Australia, Canada, Japan, Korea, New Zealand, any of the Schengen countries, the United Kingdom, or the United States:
o Valid resident or permanent resident card
o Valid entry visa (may be electronic visa)
o Resident card or visa that has expired less than 10 years prior to the date of arrival in Taiwan
Processing Time & Fees
Charges Rs. 1000 – 90 Days multiple entry Visa each stay 14 Days
Working Days – 01 working day
Taiwan Currency = New Taiwan dollar
Satisfaction Customer Feedback

Nitin Patil | Bangalore
Travel Point Holidays have proven their best work in my Swiss visa application . The dedication of the entire team has been very professional and we heart fully wish them best success in their future endeavors.

Swapnil Pawar | Mumbai
I was very pleased with the work done by Travel Point Holidays for my USA visa. They worked very hard for our company's Visas. I look forward to many opportunities to partner with Travel Point Holidays to provide my clients.

Shadab Shaikh | Aurangabad
Nice work done by Travel Point Holidays for my China & Singapore visa. We really have amazing experience. Will sure recommended to others for All Visas Services.

Meenal Thakur | Pune
Thanks for the great work, I'm very happy with the result of my Canada Visa. During the work process, they were very flexible and willing to try out various things according to my suggestions. I will sure hire them again!

Swati Panchal | Mumbai
Travel Point Holidays has been essential in helping on Visas, me & my family Visas for Spain was handled by them, Complete understand and improve the criteria necessary on process. Wishing them all the best!!!

Vishal Thakkar | Ahmedabad
Travel Point Holidays offers excellent value in service and delivery, Our last minute Visas for UK and Swiss was done by them & they provide strategic execution with respect to all Visas services.